Niveau Zero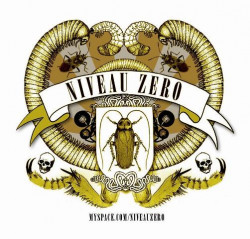 Site : myspace.com/niveau0
NIVEAU ZERO
AD NOISEAM, CHATEAU BRUYANT, PEACE OFF, HENCH, DESTPUB, DUB TECHNICS, LUTETIA DUBZ, JARRING EFFECTS..
Having taken his first steps in music as the bass player for various hardcore outfits (a background he shares with several of his Ad Noiseam label mates), Frédéric Garcia has now become one of the frontrunners of France's heavy electronic scene. With tastes and influences ranging from dubstep to breakcore or from hip-hop to metal, he's a relentless actor of this country's underground scene.
Following his winning of the "best electronic newcomer" award at the Printemps De Bourges festival in 2008, Niveau Zero had his first releases on the Paris-based label Destpub (also the first label to discover the now widely acclaimed 16Bit)., He has ever since had records put out by such imprints as Expressillon and Komod.o.Dragon (for a collaboration with Ad Noiseam's Matta).
Besides having his own FM radio show, Niveau Zero is also the founder of Paris's dubstep, IDM, electro,Dnb,breakcore parties, "F*** You I'm Furious", and is known for being one of the most sought-out French dubstep live act.
FR
DECOUVERTE ELECTRO DU PRINTEMPS DE BOURGES 2008
DJ-Producteur versatile, bassiste de metal passé par la scène drum'n'bass et hip-hop, Niv:0 a su mixer ses multiples influences dans ses compositions mêlant dubstep, electronica, abstract hip-hop et rock. On y croise au hasard sample de metal, accapela de rap us, rythmiques appuyées et basse telluriques.De ce chaudron émane une atmosphère très personnelle, s' exprimant dans ces mélodie lancinantes qui se détachent de l'ensemble massif.
Activiste depuis 2000 au sein du collectif "FREESSON"(ELECTRO CIRCUS/84). il est également membre fondateur du collectif Parisien "SUB:CULTURE", organisateur des soirées "SUB:VERSION" et "F*** YOU I'M FURIOUS!"
il a animé pendant 3 ans "WICKED" l'émission BREAKBEAT, DUBSTEP, DRUM'N'BASS sur RADIO CAMPUS PARIS 93.9 FM, où il a invité les acteurs nationaux et internationaux de la Bass music .
Il a joué avec :
OTTO VON SCHIRACH, DRUMCORPS, CRIS CLARK, SCORN, NOISIA, RAIDEN, HIVE, BONG-RA, DOM & ROLAND, KID 606, PANACEA, KEATON, PROKET, SUBJEX, IKONICA, RAMADANMAN, DJ TWELVE ET DINO (sortie d'album HIGH TONE : Underground wobble), JAHBASS, PUSHY! UZUL prod, LILEA NARRATIVE, MISS FICEL, TAMBOUR BATTANT, KANTYZE, PARA-LEL, ZôL, DJ SCIENCE, YOUTHSTAR, MOSFEL, PALOTAI,GOTO , ..
Soundcloud Niveau Zero