I8COPS Vol 1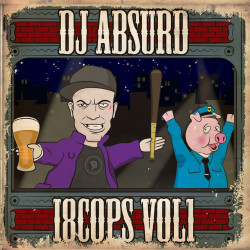 Dj
ABSURD
- I8COPS vol 1
Dubstep / Fidget / Bassline 4x4
this 4 trackers by the man called Absurd showcases the different styles that make Bass music today :
- a dancefloor shaking Dubstep track : Denver, wich features a mad wobble going over a erath wombling sub bass and crispy drum patterns .
- a 4x4 bassline banger that has nothin to blush on compared to what goes on in Sheff' & has received allready some good lovin' within the bassline scene : u aint ready !
- a fidget angry wobbler with baltimore breaks that still manages to avoid the typical blog house going on these days : original but still a club crusher ! : Fidget Lee
- and last but not least a remix from
Sa Bat' Machines
huge gispy Dubstep anthem "Sylvia" , this remix gave the tune a 4x4 rebuild with a bubbley wobble and precise dub harmonic reworks on the guitar parts & breaks .
and to finish the slaughter the Larry print (a.k.a french booty bass mogul Kaptain Kadillac) cover halfways in between comics style & traditionnal muppet French character
Guignol.